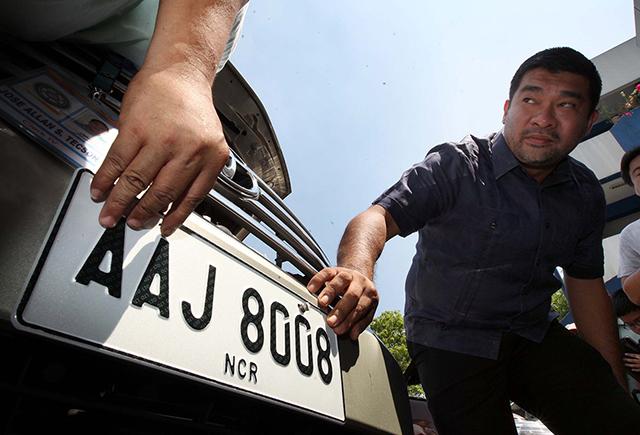 Courtesy GMA-Network
Yesterday I received finally my new license plates. My car was purchased in January 2014, see my blog posts
Mitsubishi Montero
and
car blessing
. So it lasted 8 months to get the plates.
I assume that the long waiting time was caused by the fact that DOTC had decided to renew their license plate policy.
The policy is to renew all existing plates in a 2-3 years time-frame. The plate layout is standardized including the color. Black text on a white background and a black framing edge.
The only text is a 3-letter field followed by a 4-cipher field (the licence code) and under it in smaller capitals the region where the plate was issued. So my plate has REGION 1 on it and my letter field is AAA, easy to remember.
So the theoretical number of vehicles that can be coded is 175.760.000 so ten times more than with the current coding scheme. Given that we have almost 100 million people in this country, every person, including children and the elderly, could have a vehicle coded registration.
The plate is delivered with a sticker with bar-code to be fixed on the windscreen inside top right, and anti-theft screws to fix the plates on the car. The bar-code includes the plate number, the chassis- and motor-numbers and the car color.
It seems that for motorcycles there is a similar policy.
On the LTO site there is no info on the policy, so you have to go to the DOTC site, but even there it is not easy to find anything on this policy.
You better read the following articles:
GMA-Network
or
Philstar
.